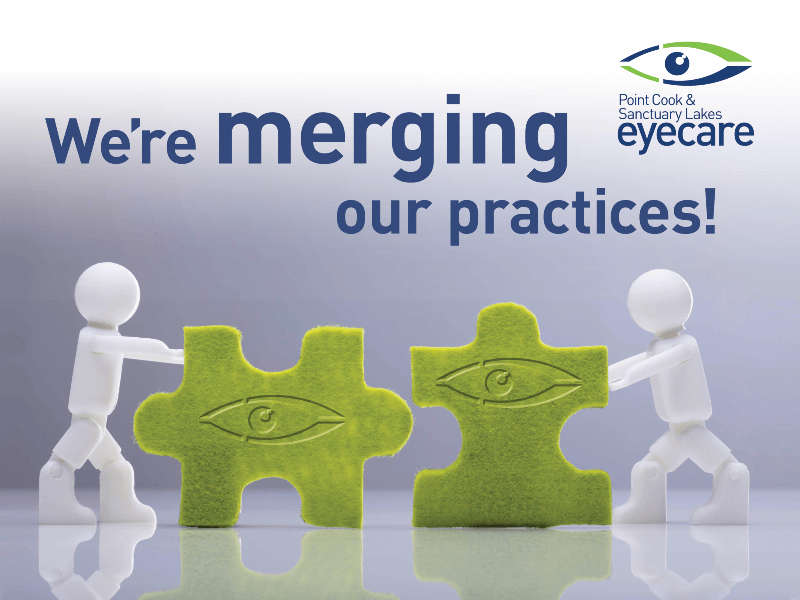 We have now merged
As of the 10th of August 2019, after 11 years of trade at The Point Cook Town Centre, now known as Stockland Point Cook, our Point Cook Eyecare practice has now merged with our larger, more established practice, Sanctuary Lakes Eyecare.
We have enjoyed bringing quality eyecare at Stockland Point Cook. However, in reviewing our mission to deliver the best quality eyecare using modern technology, the duplication in costs in investing in the latest technology, and rising staff and occupancy costs across two locations about 3km apart has resulted in this decision.
In merging the practices means we are now be able to provide quality eyecare 7 days a week from our Sanctuary Lakes Shopping Centre location. We will be able to double the capacity of appointments previously available at Sanctuary Lakes Eyecare.
Whilst we are aware travel will be further for some, and a little more inconvenient for others, we are confident that the more spacious and refreshed surrounds, larger frame range, more extensive equipment availability, presence of all our continuing optometrists at one location, and increased number of experienced support staff to serve you, will enable us to provide you an even better patient experience. All your clinical records from Point Cook Eyecare is retained and accessible at Sanctuary Lakes Eyecare. All warranties will remain fully honoured, and any uncollected orders will be accessible from Sanctuary Lakes Eyecare.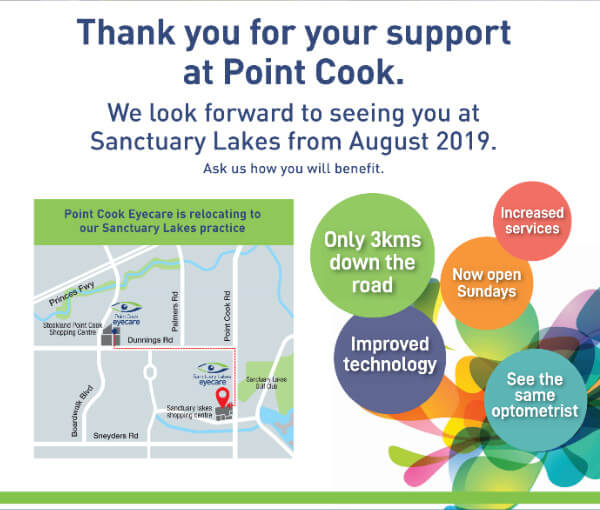 Sanctuary Lakes Eyecare, is celebrating its 15th year of providing the highest levels of eyecare to the local community. As part our continuing commitment to invest in the latest clinical technology, we are now one of the few practices in Australia able to offer intense pulse light (IPL) technology for even better management of dry eye utilising the Lumenis M22, the most technically advanced, and most research published IPL device for management available anywhere in the world.
We thank you for your support over the past 15 years across the two locations, and 11 years for those who have only ever been to Point Cook Eyecare. We look forward to continuing to provide an even better service in the years to follow and look forward to welcoming you to Sanctuary Lakes Eyecare.
Back...