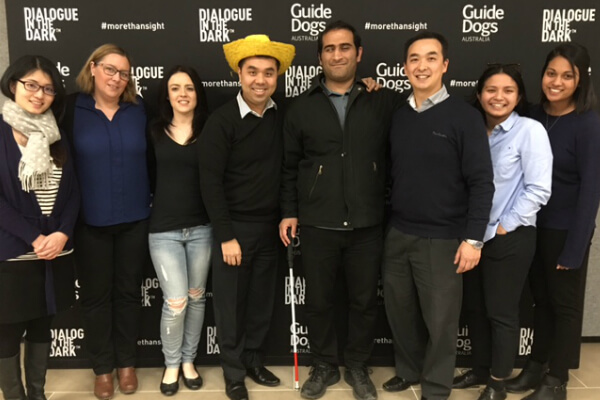 Dialogue in the Dark
We recently had the opportunity for all our staff from our two practices to experience a new Melbourne experience.
Dialogue in the Dark™ is a sensory journey through Melbourne. An experience in total darkness, you are led by guides who are blind or have low vision.  Inescapable from pitch blackness, we were taken to recreated sites from familiar Melbourne.  From what would be a routine tram journey, to the unmistakable sounds of the MCG during the AFL season, the sites are undeniably more challenging and confronting when visual cues most of us take for granted, are no longer available.
It was, pardon the pun, an eye opening experience and one that has broadened our understanding of those faced with blindness or low vision.  Even as an optometrist, who has worked in a low vision clinic, I have a new appreciation for the challenges faced by our low vision community.  I wholeheartedly suggest those looking for an amazing experience to go along to this amazing initiative.  I felt in was a truly enriching experience, one in which you cannot help but develop admiration for the guides and their stories, and for those with unheard stories living those similar experiences on a daily basis.  Melbourne, and visitors, simply need to experience to appreciate the humility, humanity and admiration it provides.
Jenkin
Back...