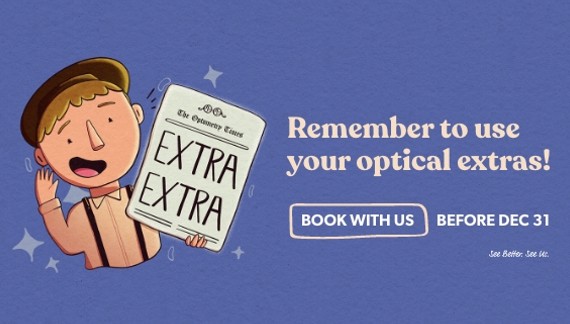 Don't forget to use your optical extras before 31st December
Optical extras?
Use them or lose them by December 31

!
Do you have extras cover as part of your private health insurance? Most health funds
–

including
Bupa, Medibank and NIB
–

reset
optical extras on January 1
.

A
ny un
used extras are lost after

this date.
Th
is year, get maximum return for your health fund investment with

the

perfect

set of eyewear

.  Our
team can help you claim optical benefits from ANY health fund
– here

are just a few
great ways to claim.
Contact Lenses
Enjoy
greater freedom for sport and outdoor activities. T

he latest technologies in contact lenses
means we can prescribe a contact lens solution for almost any prescription.
Prescription Sunglasses
Prescription sunglasses open a wor
ld of possibilities for glasses wearers, and can be

claimed with
optical extras. Enjoy the outdoors this summer with superior clarity and
essential protection from
damaging UV and glare. With so many prescriptible frame
options and polarised lenses availab

le,
there is no reason to compromise any longer.
Digital Eyewear
Australians
are spending more time in front of

digital

screens than ever before.

Internet users aged
16+64 are
estimated to spend more than 6 hours each day online, and nearly 4 hours watching
Ask us about digital eyewear to help alleviate eye strain for yourself and your family.
New Fashion Look
We love helping people select a new look from our hand
-

picked range of frames

.

Pop in to browse
our latest frames and
make the most of your extras cover!
Reading Glasses
If you wear progressive glasses (also known as multifocals), we recommend
a dedicated pair of
glasses for reading and other up
-

close activities. Your eyes

and neck will appreciate the wider zone
Driving Glasses
Your vision is responsible for around 90% of the information we
use for driving. Many people
experience changes to their vision as they get older, and this can impact things like night driving or
the ability to judge distances. Our friendly team
can assess your vision to ensure maximum road
safety with appropriate eyewear.
Spare Everyday Pair
Planning a holiday this Spring or Summer?
Losing or breaking your glasses can be stressful if you
don't have a back
-
up
. Drop in to claim a spare pair with your optical extras

!
The Sanctuary Lakes Eyecare has been proudly servicing the Point Cook community for well over 18 years
years.
Book an appointment with our team before December

31

by calling 93957530 or
clicking
here
. We
'

ll help you explore your
eyewear options and access your full extras
1. https://wearesocial.com/au/blog/2022/02/digital-2022-australia-online-like-never-before/
Back...